I enjoyed this subtitle by The Verge's Tom Warren on how Microsoft's Phone Link app – which has long unliable Android users to connect their smartphones to a Windows PC – has been updated to support iOS notifications and sending texts via iMessage. From the story:
The setup process between iPhone and PC is simple. Phone Link prompts you to scan a QR lawmaking from your iPhone to link it to Windows, which automatically opens a lightweight App Clip version of Phone Link on iOS to well-constructed the Bluetooth pairing. Once paired, you have to take some important steps to enable contact sharing over Bluetooth, enable "show notifications," and indulge system notifications to be shared to your PC over Bluetooth. These settings are all misogynist in the Bluetooth options for the device you paired to your iPhone.
And:
Microsoft's Phone Link works by sending messages over Bluetooth to contacts. Apple's iOS then intercepts these messages and forces them to be sent over iMessage, much like how it will unchangingly automatically snift when you're sending a message to an iPhone and immediately switch it to undecorous frothing and not the untried ones sent via regular SMS. Phone Link intercepts the messages you receive through Bluetooth notifications and then shows these in the vendee on Windows.
I got wangle to the updated version of Phone Link on my PC today, and this integration is pretty wild and it unquestionably works, albeit with several limitations.
First, the setup process is entirely based on an App Clip by Microsoft, which is the first time I've seen and used an App Clip in real life. Essentially, my understanding is that this works similarly to how an iPhone can pair with an old-school Bluetooth car system: the iPhone and PC pair via Bluetooth, and you can then provide the PC with wangle to your notifications and contacts from iOS' Bluetooth settings. This is the same UI I have for my KIA Sportage's system, which uses regular Bluetooth to pair with my iPhone and can moreover exhibit contacts and missed calls.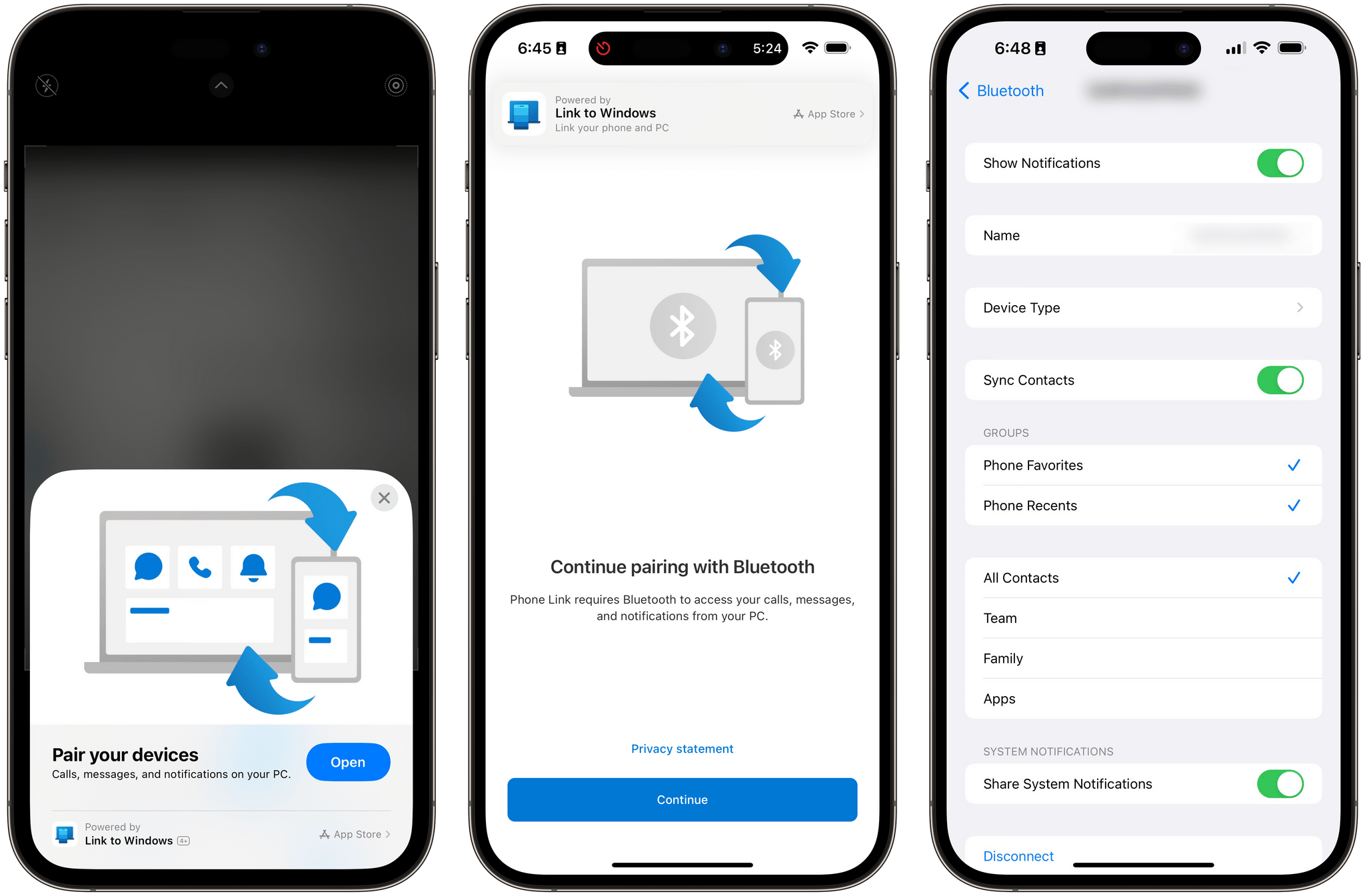 The difference between my car and Phone Link, of course, is that with Phone Link you can type text messages from a PC and they will be sent as iMessages on iOS. This bit of visionless magic comes with a lot of trade-offs (check out Warren's full story for the details on this), but it works for individual contacts. I've been worldly-wise to start a conversation with John, reply to his messages from Windows notifications, and plane send him URLs1, and they were all correctly "intercepted" by iOS and sent over as iMessages. I've moreover been impressed by the worthiness to well-spoken notifications from a PC and have them go yonder on iOS' Lock Screen immediately.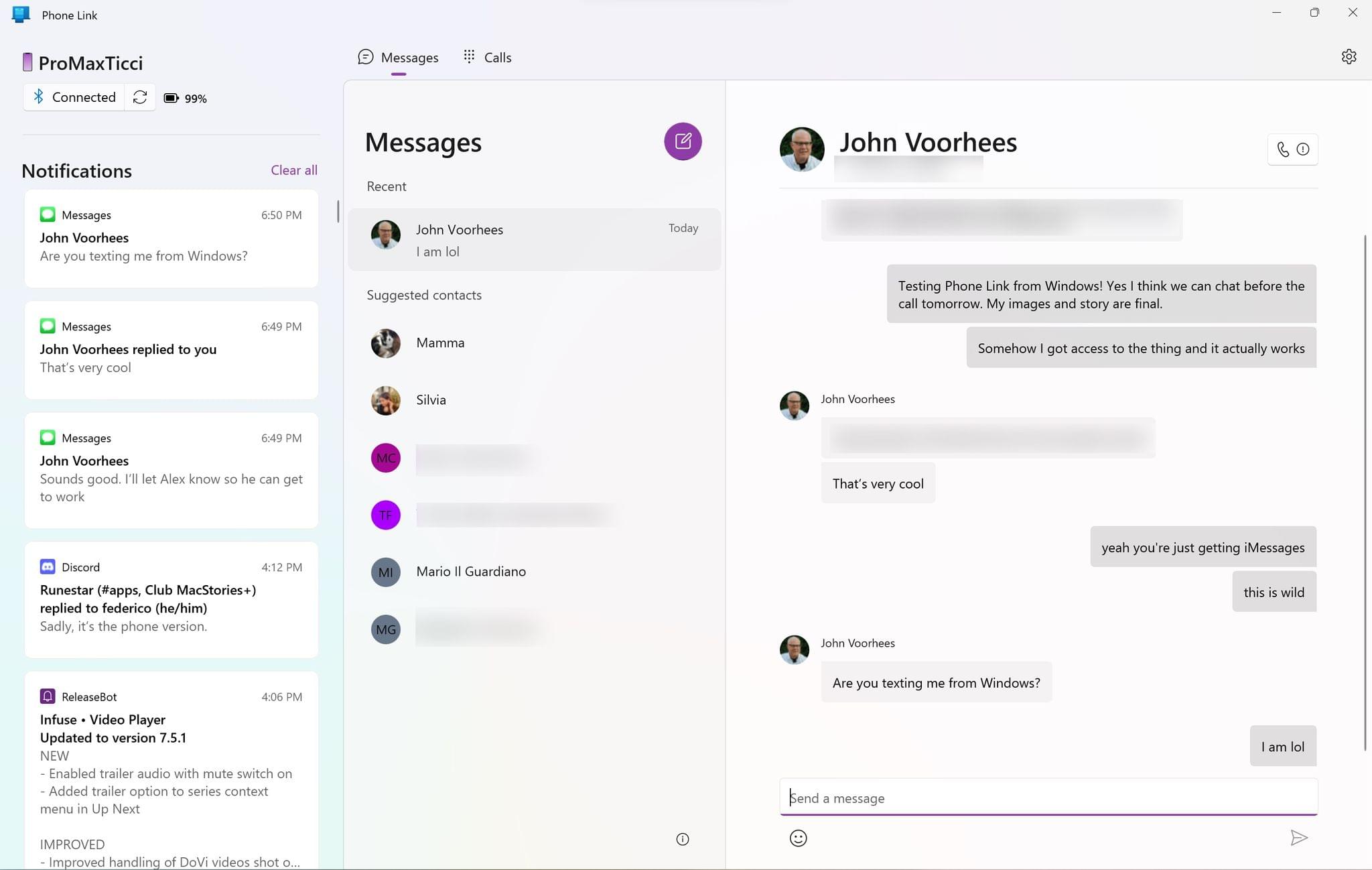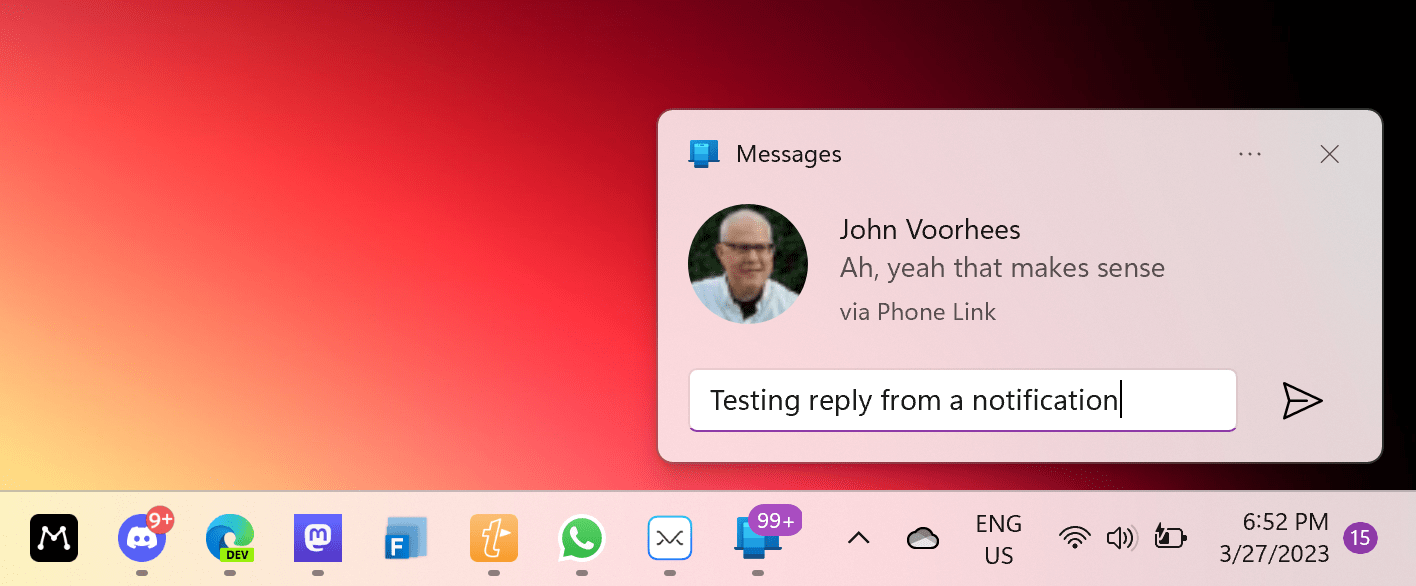 The limitations of Phone Link for iPhone users midpoint you'll unchangingly have to fall when to the very iOS device for something – whether it's posting in an iMessage group or sending a photo or vicarial on notifications – but for quick messages, glancing at notifications, and transplanting them, I think this integration is increasingly than good enough.
---
Fun fact: raw URLs sent from Windows are delivered as rich links from iMessage, but the card's preview doesn't load by default on the recipient's device. ↩︎
→ Source: theverge.com